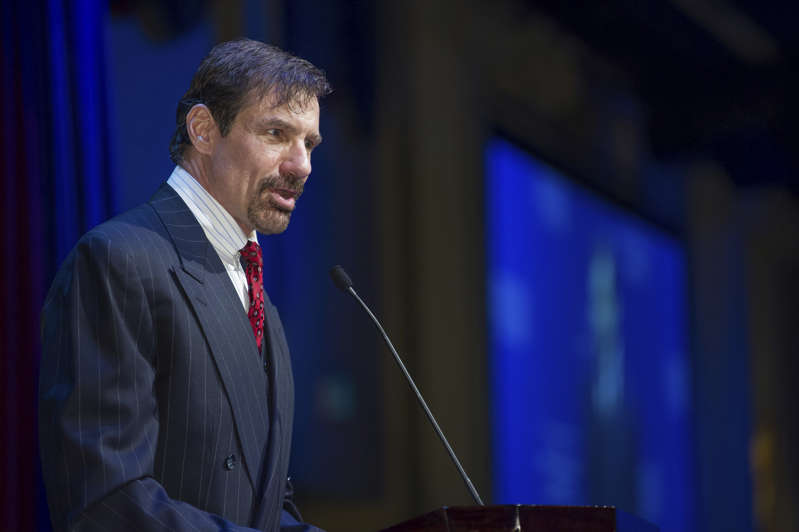 Broadcom co-founder and billionaire Henry T. Nicholas III was arrested in Las Vegas on suspicion of narcotics trafficking after police discovered heroin, cocaine, meth and ecstasy in his suite at the Encore hotel, police said Thursday.
Las Vegas Metropolitan police detained Nicholas, 59, and a woman, Ashley Fargo, about 10:40 p.m. Tuesday after hotel security called the police to the room, said Officer Larry Hadfield, a department spokesman. Hadfield said security reported finding contraband in the room.
Nicholas and Fargo were arrested and booked on suspicion of trafficking heroin, cocaine, MDMA and methamphetamine, Hadfield said.
Both since have been released from custody, he said.
David Chesnoff, Nicholas' attorney, said that Nicholas was released on his own recognizance and that Chesnoff's law firm is investigating the circumstances of the arrest. Chesnoff, who is perhaps Las Vegas' best-known defense lawyer, has represented celebrities including Paris Hilton, Bruno Mars and Motley Crue singer Vince Neil.
​​​​Neither Fargo nor any representative for her could immediately be reached for comment.
This is the latest run-in with the law for Nicholas, who stepped down as chief executive of Broadcom in 2003 and who, according to Forbes, has a fortune of $3.1 billion.
Nicholas was indicted in 2008 on charges that he had provided cocaine and ecstasy to friends and business associates. The indictment alleged that Nicholas installed "a secret and convenient lair" at his home in Laguna Hills to indulge an obsession with prostitutes.
The indictment also said that during a flight from Orange County to Las Vegas, Nicholas and his entourage generated so much marijuana smoke that it billowed into the cockpit, "requiring the pilot flying the plane to put on an oxygen mask."
In a separate indictment, prosecutors accused Nicholas and fellow Broadcom co-founder Henry Samueli of backdating Broadcom stock options to make them more valuable to prized employees without accounting for the practice in regulatory filings.
A federal judge in 2009 dismissed the criminal charges against Nicholas and Samueli related to stock-option backdating and then, in early 2010, dismissed the drug distribution charges against Nicholas.
"I have long held a deep and abiding faith in the American justice system," Nicholas said at the time.
Broadcom was one of the dozens of tech companies targeted during a federal crackdown on stock option grants. Options are rights to buy a company's stock at a set price — usually the stock's price the day the options are granted. If the stock price rises, employees can use their options to buy shares at the set price and then sell them at a profit.
Companies are allowed to backdate option grants to a date when the price was lower as long as they account for it in filings with the Securities and Exchange Commission. Prosecutors alleged that Broadcom executives backdated options and failed to make the required disclosures.
©
During the tech boom, options were used to recruit and retain highly skilled engineers. In 2007, amid an SEC investigation, Broadcom restated its financial results to account for nearly $2.2 billion in options expenses.
Nicholas said the legal challenges that he and other executives faced did not diminish the pride he felt for the company he built with Samueli, his former professor at UCLA.
The pair launched the company in 1991 and turned it into a multibillion-dollar technology empire. Broadcom has designed chips used in a variety of electronic devices, including iPhones and Bluetooth headsets.
"We changed the way people communicate," he said. "We changed everything."
Avago Technologies agreed to buy Irvine-based Broadcom in 2015 and, upon acquiring the company, changed its own name to Broadcom.
Nicholas has spent millions of dollars advocating for crime victims, helping pass California's three-strikes felony law and a victims' rights law known as Marsy's Law, named for his sister, who was killed by her ex-boyfriend in 1983.