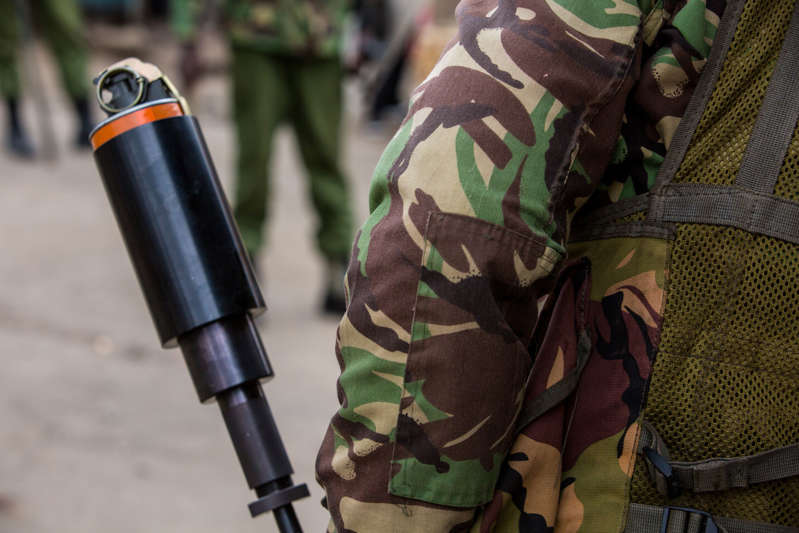 Chaos, bonfires and teargas on Thursday morning turned parts of the capital Nairobi into no-go zones as traders clashed with police and county askaris.
The businesspeople who sell their wares at Wakulima, also known as Marikiti, and Muthurwa markets were protesting over arrest of their colleagues by Nairobi City County askaris.
The officers, the traders said, violently arrested five businesspeople, including their chairman Cyrus Kaguta.
Central Police Station boss Robinson Thuku confirmed the arrests to the Nation, saying the five traders were locked up for violating city bylaws.
The businesspeople marched, chanted, blocked roads, lit bonfires and pelted police and motorists with rocks in the madness that caused a traffic nightmare for commuters heading for offices in the central business district.
Trouble started on Wednesday evening when a county askari was beaten senseless by traders during an operation against traders who had encroached on Haile Selassie Avenue.
During evenings, hawkers turn most busy city streets and roadsides into make-shift markets despite numerous effort to restore order in the capital.
Keen not to lose the battle for control of the city and its revenues, the askaris on Thursday morning returned to the market, this time with police escort in full combat gear.
They were not welcome as the traders' anger boiled over, leading to the clashes that saw dozens of vehicles smashed, revenue, business opportunities and man-hours lost.All roads entering and leaving the Kamukunji-Muthurwa Roundabout were no-go zones, with rocks and teargas flying all over.
They included Enterprise Road, Haile Selassie Avenue, Landhies Road, Ring Road, Wakulima Road, Railway Lane, parts of River Road among others.
Police cautioned motorists to avoid the chaos hotspots between Railways bus terminus and Gikomba market.
The traders also accused county askaris of using excessive force in their operations and crackdown on rate defaulters.
The traders, who were still protesting by 10am, said Mr Kaguta must first be released for the protests to end.
The chaos come on the backdrop of revelation that City Hall's traditional revenue streams, including business permits and market rates, have been narrowing.
In April, it was revealed that high default rates had led to a Sh3 billion dip in collection by the Governor Mike Sonko's administration, which is keen to meet and surpass its targets.