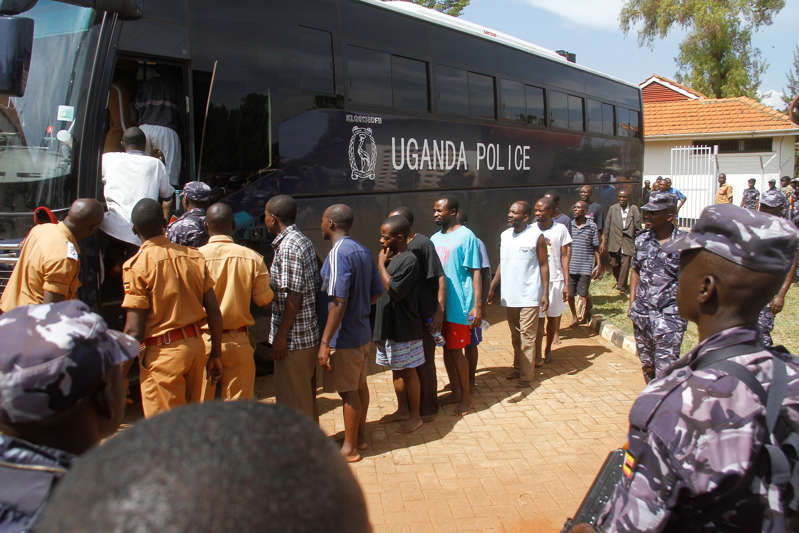 UGANDA.  Prisons authorities are demanding that government creates more space to accommodate the growing influx of inmates into various establishments in Lango Sub-region.
Mr Simpson Awongo Ebil, the mid northern regional prisons commander, said there is an overwhelming number of people being jailed due to a number of problems they are facing in the community.
He was briefing the Justice, Law and Order Sector (JLOS) publicity committee on the state of prisons in Lango Sub-region at the High Court in Lira District on Thursday.
The committee headed by Ms Jane Akuo, head of Public Relations and International Cooperation at the Directorate of Public Prosecutions (DPP), was on a fact-finding tour in the area.
JLOS publicity committee comprised representatives from Justice Centre, Ministry of Justice and Constitutional Affairs, Ministry of Internal Affairs, DPP, police, Uganda Prisons Service, Judicial Service Commission, among others.
The congestion
Mr Awongo told the officials that prison overcrowding cuts across Lira, Oyam, Apac, Dokolo, Amolatar, Alebtong, Kole and Otuke districts. He attributed the congestion to high rates of crime in the region.
Interestingly, statistics regarding criminal matters in Lango show that women are the main perpetrators of murder, while about 75 per cent of people in prison are those who did not go to school at all or those who stopped in Primary Six. This category of illiterate people is responsible for murder, drug abuse, robbery and alcoholism, according to the Prisons regional commander.
"We are facing a serious problem of congestion. For instance, at Amolatar prison, which should have ordinarily been keeping about 30 prisoners, the facility is hosting 130; Lira main prison, which should have been holding 150 inmates, is home to 700 inmates , Apac, which should have been holding 100 inmates, now has 250," Mr Awongo said.
Oyam prison, which should have been keeping 120 for both the male and female inmates, is now home to 390 inmates, while Lira women prison, which should have been keeping about 50 inmates, now hosts 105 inmates.
As a result of the congestion, female inmates are being kept in a gate lodge in Amolatar District.
Mr Awongo said courts in the area are operating well to ensure justice prevails, but that prisons face stressing challenge transporting the inmates to those service institutions because of lack of transport means.
Prison officers and inmates from Amolatar, Kole and Alebtong districts trek from their respective establishments to court.
Two High Court sessions are currently ongoing in Lira, including a conventional court and a plea bargain session.
The head of Uganda Human Rights Commission (UHRC) in Lira, Mr Anthony Otim, said the absence of a remand home in Lango has greatly affected the juvenile justice system.
"As we go for inspection, a number of times we have found children being remanded by court back to police, with cases noted in Otuke and Lira," he said.
He also noted that vulnerable persons in prison lack special attention.
"There are so many elderly persons in prison, they are always desperate; some of them are too weak. If you look at them, you may think they are going to die tomorrow," the head of UHRC in Lira said.
Lira Chief Magistrate Janeva Natukunda said more manpower should be posted to man the five magisterial areas established in Lango.
Ms Anuo said some of the issues they touched on the ground during their regional trip would be submitted to JLOS Secretariat "which will be discussed and hopefully there will be plans made around the challenges that you are facing".