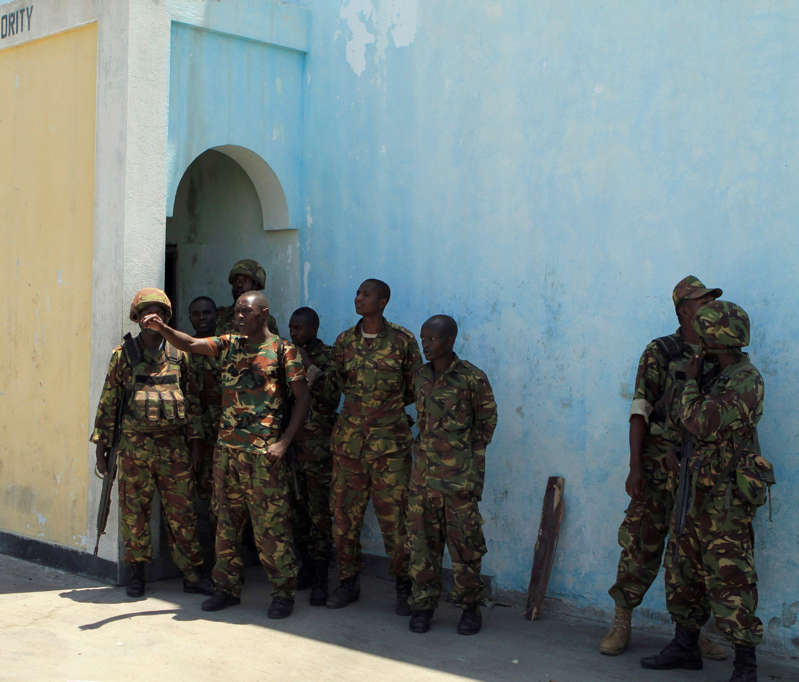 Six Kenya Defense Forces soldiers are feared dead while a similar number were injured when a vehicle they were travelling in ran over an improvised explosive device in Lamu County yesterday.
An administrator who asked not to be named told the Nation the suspected Al-Shabaab attack left six soldiers dead and six others injured.
"We heard a blast at around 8am. Shortly after we saw KDF choppers patrolling in the air. I am told there was an attack on a KDF vehicle heading to Manda from Bodhei. We are yet to get details from the ground. Security agencies have already been deployed to comb the area," said the administrator.
SPECIALISED TREATMENT
The attack happened between Majengo and Bodhei at Kwa Omollo Bridge.
However, KDF spokesperson Paul Njuguna said no soldier died during the incident. He said six soldiers were injured, two of them critically, adding that those critically injured were airlifted to Nairobi for specialised treatment.
The spokesman said he had no information of any soldier having died in the attack but promised to follow up and give an update.
IED EXPLOSION
But a family member of one of soldiers said to have died while undergoing treatment who asked not to be named said they were preparing to transfer the body of the father of two who succumbed while undergoing treatment in Mombasa to Kiunga for burial Thursday. The fallen soldier had served for about 10 years.
Yesterday's IED explosion happened where four women and a baby were killed after a vehicle they were travelling in ran over an IED suspected to have been planted on the road by Al-shabaab militants in 2016.
The area where the IED was planted is within the Boni Forest where a multi-agency security operation has been ongoing since 2015. On July 26, a police officer was killed and two others seriously injured when suspected militants ambushed a vehicle they were travelling in at Milihoi.
VEHICLE TORCHED
Two vehicles, a police Land Cruiser and another private motor vehicle were torched during the 2.45pm ambush. The Al-Shabaab have been using IEDs to attack security personnel in Lamu, in what seems to be never-ending war, leaving many dead and others injured.
The killers are said to have established 'bases' in the vast Boni forest where they plan attacks on security personnel and civilians.
After the attacks, the insurgents retreat to the forest that is inaccessible to security forces