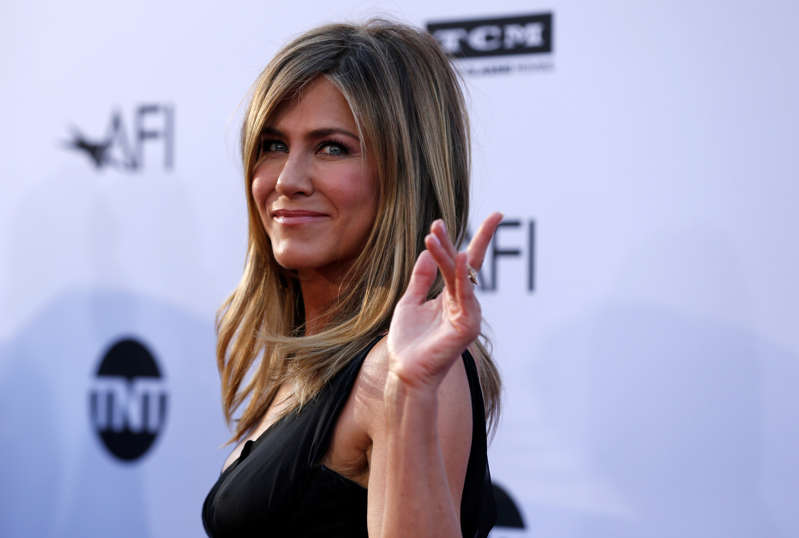 Jennifer Aniston has delivered one of her most candid interviews to date about her personal life, hitting back at her critics and declaring her 'purpose on this planet' may not be 'to procreate'.
The 49-year-old Friends vet, who was interviewed by Jimmy Kimmel's wife Molly McNearney for the September issue of InStyle, also revealed she is not heartbroken after her split from Justin Theroux.
Jennifer also hinted that a 'medical' issue may have played a role in why she never got pregnant and said it is unfair that women who do not start a family are considered 'damaged goods'.
The star does not stop there. The Emmy winner also touched on harassment in Hollywood and how she feels women are treated unfairly in the media.
'It's pretty crazy. The misconceptions are "Jen can't keep a man," and "Jen refuses to have a baby because she's selfish and committed to her career." Or that I'm sad and heartbroken. First, with all due respect, I'm not heartbroken,' said the star.
Jennifer split from Justin earlier this year and they are currently working on their divorce. She was also married to Brad Pitt for five years and has dated Vince Vaughn as well as John Mayer.
The Wanderlust actress added: 'And second, those are reckless assumptions. No one knows what's going on behind closed doors.' Here she is referring to starting a family.
The Cake star has mercilessly been scrutinized for not having children, often being compared to Pitt's estranged wife Angelina Jolie, 43, who has six children.
'No one considers how sensitive that might be for my partner and me,' said the star.
They don't know what I've been through medically or emotionally,' she added, hinting she may have had trouble conceiving.
'There is a pressure on women to be mothers, and if they are not, then they're deemed damaged goods. Maybe my purpose on this planet isn't to procreate. Maybe I have other things I'm supposed to do?'
The cover girl seemed to be in the mood for serious topics as she also touched on sexism.
'I've definitely had my fair share of sexism in the media,' Aniston said.
'Women are picked apart and pitted against one another based on looks and clothing and superficial stuff.
'When a couple breaks up in Hollywood, it's the woman who is scorned. The woman is left sad and alone. She's the failure. F that. When was the last time you read about a divorced, childless man referred to as a spinster?'
As far as harassment in the workplace, Aniston revealed, 'I've definitely had some sloppy moves made on me by other actors, and I handled it by walking away.
'I've never had anyone in a position of power make me feel uncomfortable and leverage that over me.'
And the siren said women have been worse to her.
'In my personal experience I've been treated worse verbally and energetically by some women in this industry.'
Aniston did not name names.
And she is all for the new Time's Up movement: 'It's long overdue. But we also need to be better at listening to one another. That includes men. They need to be part of this conversation.
'When everyone is mad and aggressive, people become too afraid to speak and there is no conversation. Same goes for politics. We need to include each other, to hear each other out. We can't stoop to the anger. Michelle Obama said it best: "When they go low, we go high." We should all be living by that if we want real progress.'
As far as the pressure that comes with being in the spotlight so often, Aniston said she does have breakdowns, only they take place at home.
'There are definitely moments of not being balanced and poised, but I do that all in my own personal space. For the most part I can sit back and laugh at the ridiculous headlines because they have gotten more and more absurd.
'I guess they're feeding into some sort of need the public has, but I focus on my work, my friends, my animals, and how we can make the world a better place. That other stuff is junk food that needs to go back in its drawer.'
As far as social media, she admits she checks it out: 'I don't have Twitter, Facebook, or Instagram accounts. I will totally admit that I can dip into Instagram and sort of be a secret voyeur. I'm a creeper.
;There are times when I'll look through and think, "Oh my god, what a time suck!" I've been with people who spend maybe an hour figuring out this one post, and you're like, "That just took up an hour of your life, and it's gone in 60 seconds." It feels like we are losing connection. I think we're losing conversation.'
The movie icon's next film is the musical Dumplin', which is about beauty pageants.
When asked if she was every in any, Aniston laughs: 'That's hysterical. No. Do you know what I looked like as a kid? The truth is, that's all changing now. That's what this movie is all about. It's about redefining beauty and how we as a society interpret what beauty is. I love that the Miss America pageant is going to get rid of the swimsuit competition altogether.'
She added, 'A swimsuit body is a body in a swimsuit, no matter what that body is. It's time to just stop thinking beauty is in the shape of a size 4 and the right butt size and the right waist size and the right measurements. It's just old. We've done it. We've been there. Let's move on.'
Also in the film she works with Dolly Parton, who has provided the music. Jennifer said she loves the icon, who she calls 'magic' and shared a story: 'I remember the first thing she said to me when she walked into my house. I said, "I don't know how you do everything you're still doing." She said, "Well, I dreamed myself into a corner, and now I gotta live up to it."'
And the looker is also working on a TV series with Reese Witherspoon.
Murder Mystery, about a married couple that become suspects in the murder of a billionaire, will be released in 2019.