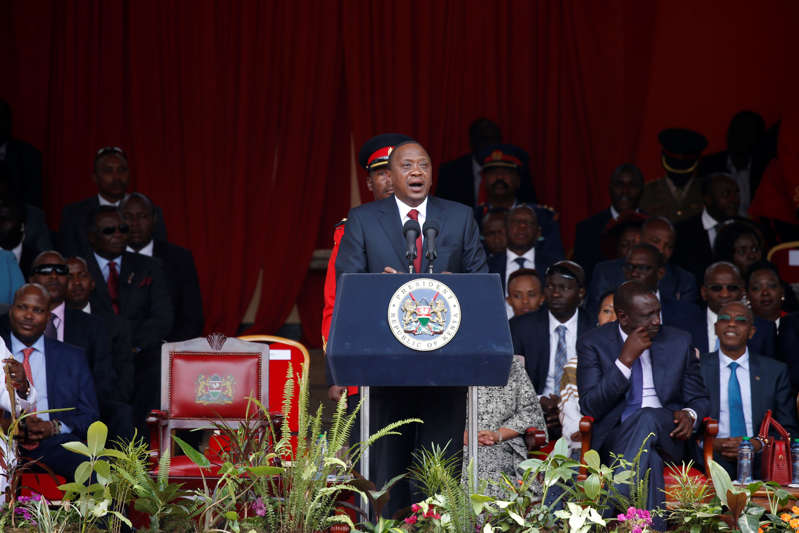 Dozens of top executives and government officials have been charged, lifestyle audits have been ordered and even lie detector tests suggested in recent weeks, as Kenya launches a new crusade against corruption.
There are few topics as discussed in the country as the endemic graft rotting every sector of society, with reams of newspaper columns, hashtags, political speeches and presidential promises devoted to the topic.
But with a history littered with unsolved cases and millions of lost dollars, Kenyans are hesitant to believe the latest flurry of prosecutions really means change is on the horizon.
"It is a joke. The president is just trying to give a legacy. We are used to it, those people just play their games," said a worker for a security company in Nairobi's Kilimani neighbourhood, who asked not to be named.
"In Kenya we have this mentality of bribes. We see it with the police every day. It starts from grassroots to the top, it's rampant," he said.
– 'Air contracts' –
In the latest scandal to engulf the country, dozens of top executives at national power giant KPLC as well as contractors have been charged this month with squandering public money.
The probe at the power company centres on a $4 million (3.4 million euro) deal to procure electrical transformers that were found to be defective and unusable — raising questions about the legality of the purchase.
The arrests came just weeks after 54 suspects were charged over the alleged theft of $68 million from the National Youth Service (NYS) through dodgy contracts.
In one example of the corruption, Kenyan media have reported how the NYS paid $10 million for beef in one year — meaning each recruit would have had to consume 66 kilos (145 pounds) of beef a day.
Like these, many graft scandals in Kenya are so-called "air contracts" where suppliers agree deals with the public sector but never actually deliver any goods or services — but still get paid and grease official palms in the process.
An audit of the public finances for the financial year 2015-2016 highlighted suspect, unjustified expenditure amounting to more than $400 million.
– 'No mercy for thieves' –
In 2017 Kenya was ranked the 143rd worst out of 180 countries in Transparency International's corruption index.
"We shall recover all the stolen money. There will be no mercy for the thieves. Their days are numbered. They will be prosecuted and jailed," President Uhuru Kenyatta said in May.
His comments echo those of previous leaders, who have all declared war on corruption to no avail, meaning most Kenyans see the scourge as an unavoidable fact of life.
"There is scepticism. We never had a real effort in Kenya against corruption, government have never been serious about this," said anti-corruption campaigner John Githongo.
He has accused the current government of being the most corrupt in Kenyan history.
"Yes, a lot has happened (recently), people arrested, held in jail, prosecuted," said Githongo, who added that more time was needed to assess the efficacy of the new fight against fraud and graft.
On July 20 the head of the Supreme Court David Maraga announced that all new corruption cases would be handled by a special court based in Nairobi.
The Daily Nation newspaper called it a "decisive" moment in a nation where corruption cases "never run the full cycle and the culprits get punished".
The government announced in June that procurement and accounting officials would be required to face lie detector tests.
– Lifestyle audits –
The president has also revealed plans to perform lifestyle audits on all public servants — including himself and his deputy William Ruto.
However the exercise has yet to begin, and officials at the Ethics and Anti-Corruption Commission (EACC) or Attorney General's office say they are still waiting for orders.
"We just heard about it on media. We have no idea how it is supposed to be done," one official at EACC said on condition of anonymity.
The scale of the fraud has diminished the level of shock and anger at such scandals felt by ordinary Kenyans, who barely blink an eye when they are exposed.
"If we go in the streets the police will teargas us, so we don't", said a young Nairobi woman who declined to be named, drinking a milkshake in a chic cafe.
"I think corruption is a real thing but this fight is not."